It's important to remember that Leather is a natural product that behaves much like our skin. No two hides are the same and each comes with a unique blend of scars, marks, and variations that add to the beauty of high-quality leather. We only source the highest quality leather and retain the natural properties throughout the process. This can result in subtle variations in tone and texture.
We offer a number of different leathers at Distinctive Chesterfields, order your 5 free swatches here.
CORRECTED GRAIN LEATHERS:
Corrected grain, full grain and top grain all refer to leather from animal hide, varying only in the methods of manufacture. In the case of corrected grain, after the cowhides are tanned, the hides with more scarring and visible defects are buffed to remove the markings. Similar to sanding wood smooth, this process alters the grain on the leather's surface. The grain is then restored to the leather by embossing or stamping an artificial grain on it. This grain has a more uniform look and the leather is often coated with a semi-aniline or pigmented dye.
SEMI-ANILINE LEATHERS:
Semi aniline leather is created from high-quality hides that are lightly treated to give the leather a light layer of protection. This means it offers the best of both worlds as it is usually more durable than an aniline leather, yet many of the natural characteristics of the hide are still present.
This means that the leather will have a more uniform coloring than a full aniline leather. In addition, semi aniline leather still preserves the natural markings present in the leather while adding a thin protective layer which makes it more resistant to stains and wear than full aniline leather.
ANILINE LEATHERS:
Aniline leather is the most natural-looking leather, with the unique surface characteristics of the animal hide remaining visible. Pure aniline leather is coloured only with dye, and not with any surface coating of polymer and pigment.
Aniline leather also retains its natural feel. This is because real leather artisans do not apply any protective treatments or surface coating to the leather surface. It has a soft feel which is warm to the touch. It is a very breathable leather making it very comfortable to use.
Extra care is required as aniline leather is more susceptible to marking, soiling and spillage marks.
NUBUCK LEATHERS:
Nubuck leather is made out of the best quality leather by gently buffing the top grain. Nubuck is a high- luxury leather with a special velvety touch.
Things to avoid when caring for your Leather:
Sources of excessive heat, i.e. fires or close to radiators
Direct sunlight particularly on aniline and semi aniline types
Furniture polishes and waxes
Household detergents and solvents
5 Myths about Leather: 
Leather sofas are not often everyone's first choice when it comes to comfort. This, is in part due to popular myths about how cosy this material really is and a poor general awareness of maintenance and how to make the most of leather. 
These misconceptions lead people to believe that leather sofas are less comfortable and harder to maintain than a fabric alternative. However, this couldn't be further than the truth. So, if you've been thinking of a leather sofa or chair but aren't convinced, we're here to dispel any myths and reassure you that leather could still be the best choice for your space. 
"LEATHER CAN'T BE COSY, IT'S TOO COLD"
Wrong! 
The nature of leather and its skin-like qualities mean that as a covering, it's incredibly breathable. As a skin, it behaves incredibly similar to our own, responding and reacting to the environment around it. For this reason, if your space is kept warm your leather furniture will retain this heat and feel warmer to the touch, and vice versa in the summer months. This unique characteristic makes leather one of the most versatile materials for seasonal comfort, year-round.  
"LEATHER SPOILS WITH AGE"
Wrong again. 
Leather is one of the few materials that enhance with age. As leather ages, its unique patina becomes more and more present and it develops a delicate character exclusive to leather. As a material, leather is likely to outlast any other fabric used for upholstery such as wools and linens. Of course, leather is by no means indestructible but is one of the most resilient materials out there when cared for correctly. 
"LEATHER IS TOO DELICATE FOR PETS OR YOUNG CHILDREN"
Wrong, of course. 
The right leather can be the perfect choice for busy homes, small children, and pets. While it might not be the glaringly obvious option, some leathers are specifically treated to be resistant to scratches and scrapes (our sealed leathers); bolstering leather's already hard-wearing qualities. The natural qualities of leather also mean that it has a great deal of elasticity. This means that when it's stretched for example when sat on or laid on, it will return to the shape of the cushion/sofa far easier than other fabrics. Unlike other fabrics leather also repels odours, while others trap them inside their fibres. As it's easy to wipe clean, leather is also better when dealing with spills and mess knowing that these are not soaking through the fabric but instead sitting on the top, giving you time to deal with them.
What's more; on the off chance that your leather does take on damage, it is far easier to make repairs to leather upholstery than it is fabric.  
"MARKED LEATHER MEANS IT'S DAMAGED"
Incorrect. 
As we've mentioned, leather is skin not unlike our own. This means that it stretches, grows, and matures in the same ways. Scars and marks on the leather are completely natural and an indication of high-quality, genuine leather. If you notice marks or scaring on your leather sofa it certainly doesn't indicate damage or faults. In fact, as leather hides are tested it shows that naturally healed scars or marks on the leather indicate a reinforced strength in these areas.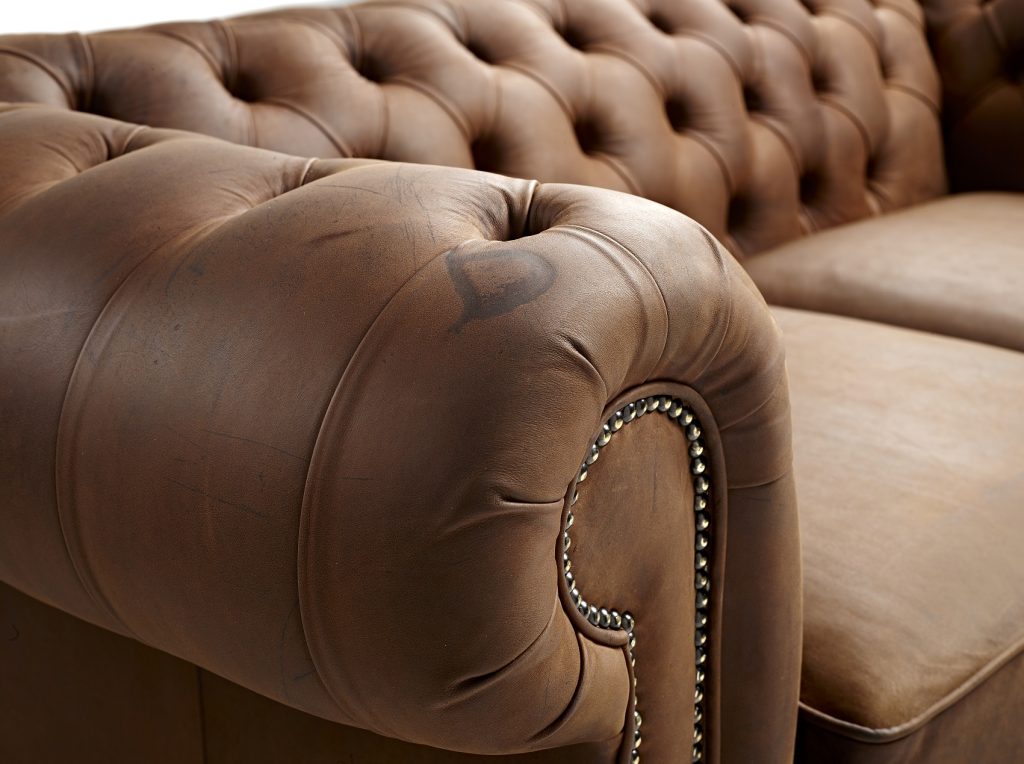 "LEATHER IS FAR MORE EXPENSIVE THAN FABRIC"
So, there is an element to this statement that is true. However, when weighing up long-term investment and quality, leather is the winner by a country mile. 
When buying furniture from manufacturers the price tag will always reflect the overall quality of the piece, from the woods used within the frame to the fabrics and materials used during upholstery. So taking this into account, whether buying leather or fabric, a high-quality manufacturer should be using high-quality materials meaning that there is likely to be a costly price tag regardless of buying leather or fabric. Not to mention the huge advancements within textile production which have not only made desirable qualities achievable but also increased the price of fabrics, without guaranteeing these will hold their own against leather in the test of time. 
When considering the 'substitutes' for leather, it's best to think of leather as an investment. When buying a leather sofa you are investing in a piece that will improve with age and retain its quality for as long as you have it. Substitutes may look good for some time before they begin to peel. fade and break apart just under normal wear and tear. Unfortunately, if you want the look of leather, genuine leather is the only way to achieve this without having to rebuy furniture down the line. 
If you need some help finding the right leather for your piece, visit us in-store at our London or Huddersfield showrooms. Come in and let our expert sales teams show your our collections.
Or visit us online, browse our collections of styles and leathers and order your 5 free swatches now.